Willie Drake started in the Engine Reconditioning business in 1946 with a lathe and a franchise for cords piston rings. It wasn't unusual for engines of this period to require a re-bore after only 20,000 miles, and the re-machining of the piston ring grooves and fitting cords piston rings was a cheaper alternative.
Business was so good in the 50's that in 1951 a brand new delivery van was purchased. The little ford 8hp van was sign written and on the road for less than £200! in the workshop the lathe was complimented by the new prince crankshaft grinding machine, van-norman boring bars, valve & valve seat cutting equipment and a white metaling plant.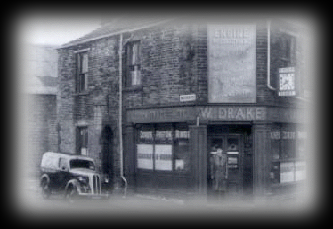 1967 with Alan at the head of the business following his father's retirement, the "corner shop" had expanded to its limit and newer bigger premises were required. This meant a move to the other side of the city. With the company still expanding it was only ten years until another move was needed.
With the updating of machinery along the way the list of equipment was now making W. Drake one of the top re-manufacturers in the country. This was emphasised when the federation of engine re-manufacturers classed them as a "CONCORD" member.

Over 50 years re-manufacturing engines W. Drake continues to keep at the fore front of the industry, but still offers friendly service helping with technical information and other services to the trade & retail customers locally and nationally.