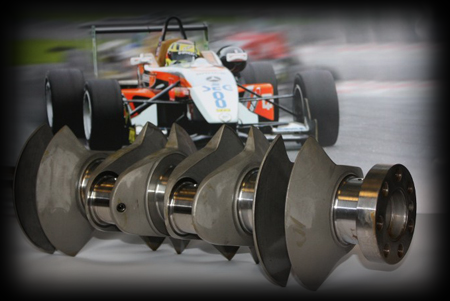 Before grinding any crankshaft, it is degreased and crack detected using ultra-violet light. Once the crankshaft has passed this stage it is then ready for the regrinding of the journals. This is done on a SCHOU crankshaft grinder, which has centreless chucks to enable the big ends to be ground. This machine can grind crankshafts up to 2 metres long and 28cm stroke.
Once the journals are ground to size they are finished by linishing the journal surface; this gives the ideal finish for today's high revving engines. Also because the chucks are centre-less we can re-stroke crankshafts for racing purposes and grind crankshafts from castings, which is sometimes useful on one off jobs on renovation projects such as steam engines etc.
The cylinder head department is capable of coping with any cylinder head, from a pre-war motorbike to be converted to unleaded petrol, a latest 16V cylinder head wanting extensive repair after a cam belt breakage, up to a 24v cummins engines fitted in tractor units and other commercial applications.
As stated above a lot of cylinder head work is due to cam belt breakage, apart from the obvious of bent valves, this can also result in broken valve guides. In the modern 16v engines it is essential to get the running clearance exact. To achieve this all the valve guides are honed to size, this leaves a better running surface and is more accurate than using reamers. The valve guide bore is then measured using pilots varying in dia. by as little as 0.001mm.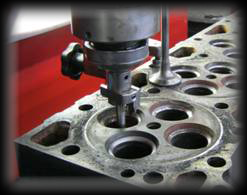 We can also repair original valve guides (if worn, not broken) by using an American system, which re-sleeves the guide by using a bronze liner. This is an excellent system when converting to unleaded petrol.
We obviously also, strip and rebuild the cylinder heads inc. camshaft assemblies. We have special "head stations" for this operation, which includes a hydraulic, foot operated valve spring compressor, this enables the operator to still have two free hands for fitting collets etc. We also re-shim cylinder heads if required.
MACHINES
Serdi

This is the latest air operated machine, used by many O.E.manufactures. It is used for fitting valve seat inserts, for unleaded conversions etc, and re-cutting valve seats. It finishes the seats back to (or in the case of olderengines, better than) the original equipment finish using 3 angle cutters to improve gas flow.
Valve Re-facing.
This is one of the smallest operations in theworkshop andiscarried out on a Kwik-way machine. This has an airoperated chuck and can re-face valves with as smallas 4mm valve stems.
Pressure Testing.

We have 2 pressure testing machines; one does the majority of cylinder heads and a bigger one for very large commercial applications & cylinder blocks. Pressure testing is the best way to discover if the cylinder head (or block etc.) has any flaws in the castings i.e. cracked or porous. This involves blocking all the water galleries and filling the water jackets with compressed air. Apart from testing the water system, the oil ways can be checked, and on some of the late common rail diesel engines, the fuel way.
Pressure testing Generally if the cylinder head is found to pass the pressure test the head face needs re-surfacing due to distortion. Depending on whether the cylinder head is cast iron or aluminium, and the surface finish required would depend on whether we would surface mill or surface grind the head face.
Surface milling.
We have 2 milling machines specifically designed for re-surfacing cylinder heads/blocks. One is a hydraulic bed and the other a gear driven bed. Different finishes are Surface grindingrequired depending on applications and we can achieve any finish required between these 2 machines. Generally, with modern gasket technology (MLS head gaskets) a very smooth finish is required.
Surface Grinding.

The surface grinder is not used as much as the milling machine's theses days, due to most cylinder heads being aluminium. This machine is much bigger than the milling machines to enable it to machine large commercial cylinder heads (still generally cast iron) and cylinder blocks. As with the milling machines it can give various surface finishers.

Flow testing & porting.
The flow tester is made by an American company and is a superflow. We use this when we are porting cylinder heads. It helps us to achieve the best results in increasing engine performance. Although we will port and polish most cylinder heads, at the moment we only bench flow Mitsubishi Evo's I to X. This is because it takes a lot of specially machined "extras" to fit different applications. In the future, depending on demand, we hope to expand this service. Due to porting being very time consuming, this is not a cheap service! We also cc the combustion chambers when porting, this being quite important to keep all the cylinders as close as possible.
The cylinder re-boring department is capable of re-boring cylinders from as little as a 50cc moped with a 40mm diameter piston. Up to cylinders as large as 30cm. Once the cylinder has been re-bored it is honed to size and on petrol engines plateau honed to give the perfect finish to match any application. A lot of today's work carried out on this machine is over boring on motorcycles and race engines, and where necessary re-sleeving to bigger liners. We also have the capability off fitting the latest Alusil type liners that require special honing when fitted.
Apart from vertical boring of cylinder bores this department can also do horizontal boring. This operation is for re-claiming cylinder blocks which have had bad crankshaft failures, this results in the main housing becoming distorted and out of alignment. A similar operation is performed on con-rods to repair a distorted bearing housing.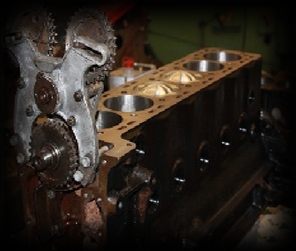 Apart from the main work carried out by an engine re-manufacturer, as identified in the other departments. We also offer an engine re-build service, although we will re-build almost any engine, usually it's the more uncommon engines that we re-build.
These are often older engines like the Jaguar E type engine as in the picture, or modified high performance units, especially the Mitsubishi Evo and Subaru Impreza range. The one photographed here is from an Evo XIII, being built using Plastiguage to check all running clearances before final assembly.
We also have a universal milling machine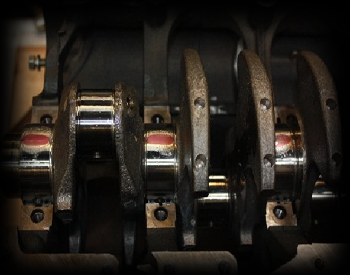 and lath's for doing "one off" little jobs. One of the laths is especially designed for re-facing flywheels, brake discs & drums. One of the attachments to the milling machine is a "Spark erosion" machine (pictured) that is used for removing broken taps etc, but more often now for removing stuck injectors or glow plugs, which appear to be coming a problem in the newer diesel engines.